WHY SCALP HEALTH
IS IMPORANT
A healthy scalp is
the foundation for
beautiful hair.
Your skin routine includes exfoliation at some level every day — whether it's a daily cleanse to wash away make-up, or a weekly, deeper scrub to slough away dead skin cells and reveal the glow of fresh skin underneath.
It's important to think of your scalp the same way. Gentle exfoliation at your hair's roots removes product build-up, dead skin cells, and other debris, reducing irritation and time between washes. Better yet, it encourages new and healthier hair growth, giving you shinier, softer hair that grows faster and thicker.
Scalp Serums
Acids like Hyaluronic and Citric to remove build-up, hydrate, and lock in moisture
A vitamin boost of Biotin to strengthen and thicken hair from the roots
A weightless, non-greasy layer of added UVB protection from the sun
Scalp Serums
Sea Salt and Hibiscus Extract to remove excess build-up, promote cell turnover, and provide a natural vitamin boost
Sugar Crystals and Rhassoul Clay to cleanse away build-up, draw impurities away from roots, and boost volume
Creating a scalp regimen is as easy as recognizing what your hair needs.
Start with the basics of a skin routine — cleanse, add serum, and moisturize — and you're already on your way to more beautiful hair.
Here's one of our favorite weekly scalp rituals to help get you started:
Step one Before shampooing, part wet hair and massage Cleansing Scalp Scrub into scalp in a circular motion. Repeat all over. Rinse thoroughly. Apply your favorite ikoo Shampoo, lather, and work through hair. Rinse.
Step two After shampooing, for best results apply Hydrate and Shine Deep Caring Mask into hair. Use your brush of choice to spread the formula evenly throughout hair, from roots to ends. Leave in for 5-10 minutes. Rinse thoroughly.
Step three For best results, dry hair before applying our scalp serums. Shake Day (or Night) Scalp Serum well. Section the hair and apply a few drops directly to the scalp. Repeat this on the entire head, then use brush to gently massage serum into scalp, and for quick scalp massage.
Step four Seize the day (or night) with shinier, healthier hair.
What People
Are Saying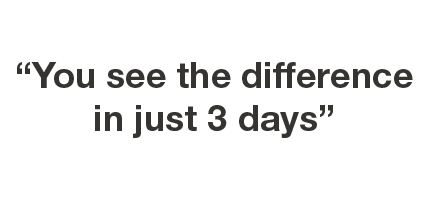 Our
Story
It all started with a brush designed with a bristle architecture to give its user a scalp massage based in traditional Chinese massage. From here, we created a foundation of clean, cruelty-free, high-performing products to build beautiful hair; beginning at the scalp with formulas that cleanse, infuse, and promote growth, all the way to the ends, with brushes and tools that offer a salon-quality blowout at home.
This is why our community includes everyone from self-made innovators and online creators, to seasoned salon professionals. Real beauty starts with strong roots. That's why a scalp regimen is the key to creating lasting, beautiful hair.